singapore ief symposium 2016
INTERNATIONAL ELEPHANT & RHINO CONSERVATION & RESEARCH SYMPOSIUM:
A truly exceptional gathering……
November 14–18, 2016, President Linda Reifschneider attended the IEF/IRF Symposium in Singapore.
Hosted with exceptional hospitality by Wildlife Reserves Singapore Group, this was an excellent week of presentations from some of the best of the veterinarians, researchers, and conservationists working to assure a future for all elephant and rhino species. Linda presented an update on AES' efforts and was asked to focus on the educational aspect of our work. Looking back at the past couple of years and all that you have helped us make happen, it became quite apparent that almost everything we do has an educational component to it:
Helping veterinarians, mahouts, researchers, or educators attend a workshop or conference that will help grow their knowledge and confidence is, naturally, all about education.
When we help Dr. Sarma conduct his elephant health clinics, in addition to attending to any immediate medical needs and supplying preventative medicine, Dr. Sarma is always teaching the elephant owners and mahouts how to better care for the medical needs of their animals as well as how to better identify when they need to call him for help.
We initially helped Mamatha attend a teacher's conference to advance her teaching skills. She paid it forward via all the lessons she gives within her school curriculum, outside of school sessions, and with the mahouts at three of the Forest Department's elephant camps.
The mobile clinic AES helps ElefantAsia run in Laos to bring medical care to every captive elephant in that country also actively helps teach those mahouts and owners how to better care for their charges.
And the learning goes both ways. For every time we reach out to help, we also learn. Whether reading grant requests through the final report of a funding effort, or traveling to participate in a workshop or conference or to visit those we fund in their backyards, our efforts are repaid by growing our knowledge and thus our ability to always put your financial support towards the best of efforts. Thank you again for your support of our endeavors.
ema conference 2016 okc
This past October AES directors were lucky to spend the weekend in Oklahoma City at the 37th annual Elephant Managers Association conference. Our pre-trip took us to the Endangered Ark Foundation in Hugo, OK. Then at the conference we were able to catch up with keynote speaker Dr. Josh Plotnik, founder of Think Elephants International, and his wife Cherry Plotnik, a Thai elephant vet. There was a wonderful array of presentations about training, vet care, enrichment, and of course, conservation. That Saturday we spent the day at the OKC Zoo where we learned more about their elephant program and got to see their beautiful barn and elephant yards. The weekend ended with a post-trip to the Sedgwick County Zoo where a herd of the new Swaziland imports are settling in nicely. All in all it was a fabulous time; the EMA is something we look forward to every year!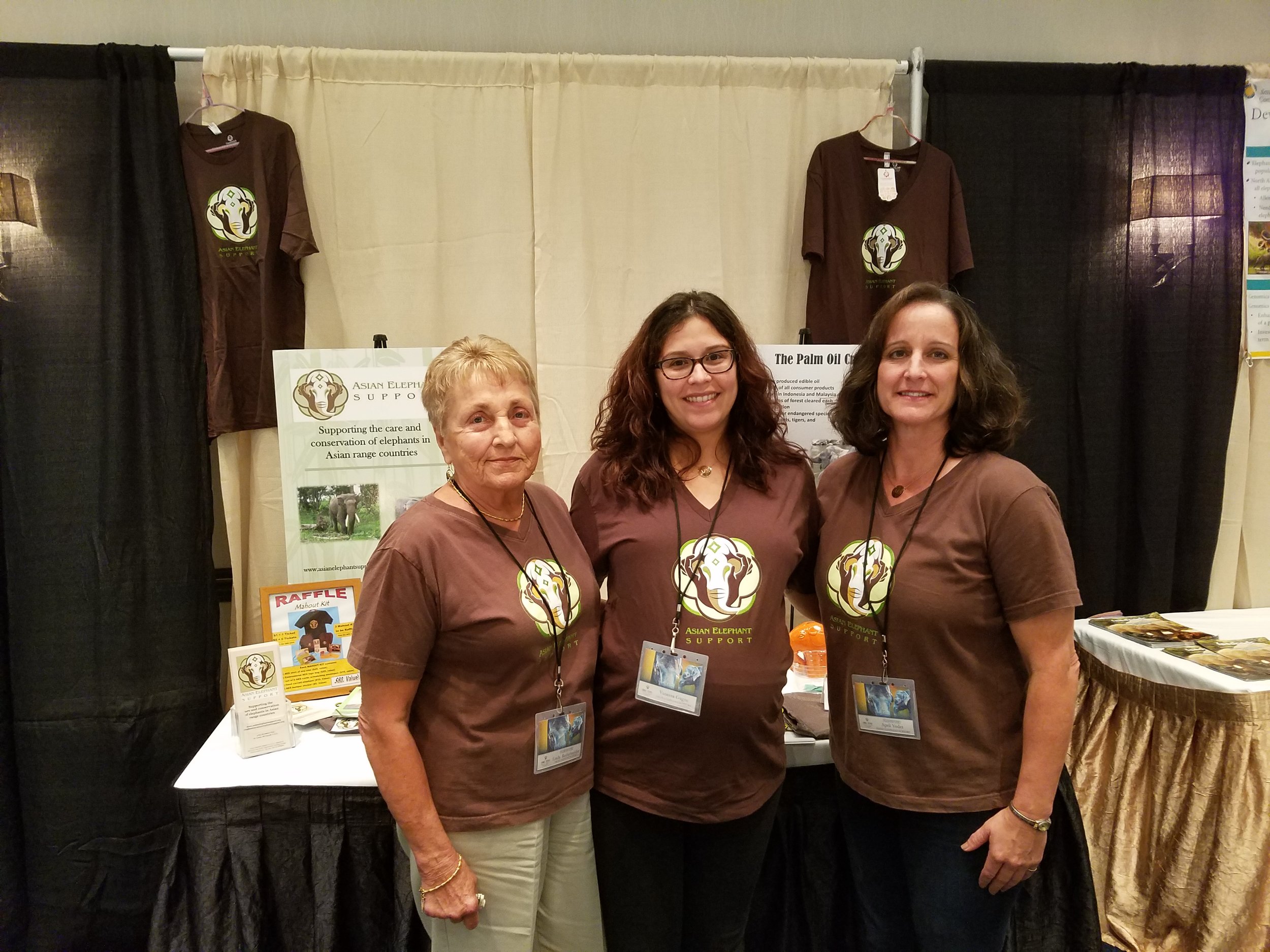 This past September, director and Secretary Vanessa Gagne presented to hundreds of school children across the US about Asian Elephant Support and Asian elephant conservation. The Perot Museum of Science in downtown Dallas has a ScienceCast that allows for classrooms to engage with a speaker at a Career Cafe via video call in. Vanessa talked about Asian elephant natural history, their status as an endangered species, and of course, how the school kids could help elephants! She passed out a list of sustainable palm oil candy just in time for Halloween along with AES logo coloring sheets for the younger classes. The kids came up with excellent questions about elephants and were very interested in what they could do to help save the Asian elephant. Vanessa looks forward to returning to the Perot Museum in the future for more elephant outreach.
President Linda's road trip
AN AUGUST ADVENTURE…. A road trip to visit elephants and their keepers.
This trip actually began a year ago when I was invited out to Woodland Park Zoo to represent Asian elephants at their Asian Animals Festival. It wasn't possible for me to make that trip but I asked for a raincheck and so planned for a year to attend their 2016 event. I'll begin telling you about this trip by saying that I managed to plan a 19-day, 10-zoo, family, and donor trip all around the wrong date for Woodland Park's 2016 Asian Animals Festival! My thanks to a most generous Bobbi Miller and all at Woodland Park for a gracious 'save', allowing me to give a presentation about AES' work to a very enthusiastic crowd, as well as have a wonderful visit - on the 16th of August.
But, let's start the trip at the beginning. Cynthia Christison, an AES supporter and volunteer, agreed to accompany me on this trip, and I'll admit up front that it would not have been as easy or as much fun had I covered what ended up being 6,126 miles on my own! An elephantine Trunks Up! to Cynthia.
We departed St. Louis on August 10th, with our first destination the Henry Doorly Zoo in Omaha, Nebraska, where elephant keeper, Joel Locke, introduced us to their African elephants. It is always good to 'talk elephants' and especially hear how these were settling into their new home. We had visited last year when the new barn and yards were under construction, so it was delightful to see it now finished, and inhabited! The next day, we checked out Fort Laramie (because we could) and made a spur of the moment decision to follow a sign saying Riverside Park Zoo in Scottsbluff, Nebraska. A little and quite lovely zoo, and a good break in a long day of driving.
Seattle is a good distance from Omaha, so we routed ourselves up through the Grand Tetons and included a drive-through of Yellowstone, eating our lunch while awaiting Old Faithful to, well, be faithful.
Arriving at the Point Defiance Zoo in Tacoma, Washington, the morning of August 15th my first surprise was hearing someone call, "Linda!" and see Bruce Johnson, a fellow traveler with director Barbara Davis and I, on a zookeeper trip to Lewa Wildlife Conservancy in 2011. Friend Melissa Crandall and her hubby, Ed, from Connecticut, were also visiting. After my presentation to staff and volunteers, John Houck, Deputy Director, Melissa, Ed, Cynthia, and I enjoyed a great seafood lunch on the wharf, which is practically a next door neighbor to the zoo – and with a great view of Mt. Rainier! After lunch, John took us on a wonderful tour of the Point Defiance Zoo and elephant keepers Katie Burone and Piper Lieper were generous with their time, showing us the barn and introducing us to their Asian elephants, Hanako and Suki. John, Katie, and Piper, were new acquaintances, and as this trip proved over again and again, whether making new friends or reacquainting with old ones, talking elephants with those who know these amazing creatures the best and are definitely the most dedicated to them always energizes my own commitment.
Tuesday, August 16th: the day that isn't Woodland Park Zoo's Asian Animal Festival! What a gracious and enthusiastic group of people. The morning started having coffee and talking elephants with Bobbi and several of the docents particularly concerned about Asian elephants. Among them was Sue Connell who I first met on River's Edge when I was on docent duty at the Saint Louis Zoo…but we knew of each other from AES' work in Sumatra which Woodland Park Zoo, including their docents, help fund. I was humbled by the large audience of volunteers and staff that filled the auditorium for my presentation. It was good to get to say hello to Fred Koontz and Pat Maluy, who I met a few years ago but haven't seen recently. Cynthia and I spent the afternoon visiting all of the zoo and everywhere we went, if we had a question, it was answered quickly, as I've yet to meet so many and such enthusiastic docents as greeted us throughout the day. And I promised Bobbi that if she invites me to a future Asian Animals Festival, I will definitely get the day right!
The next morning finds us at the Oregon Zoo in Portland where we meet up with Sharon Glaeser, a dear friend who was a director of AES in our early days and remains chair of our grants committee. Sharon has been involved with elephant research at the Oregon Zoo for many years and takes us on a grand tour of their exciting new elephant barn and yards. I have had the pleasure of visiting Oregon Zoo a few times in past years, so met both old and new friends, and always good to see their Asians: Packy, Shine, Rose-Tu, Chendra, Sam, and their little Lily.
A stop in Fremont, California, to say thank you in person to generous AES supports, George and Carol Spindler, resulted in a delightful evening visit with them, meeting their daughter, Heather, and their two rescue pooches: Lady and Bella. My initial suggestion that we meet at a restaurant was overrode by a lovely home cooked dinner. A real treat when on the road for as long as we will be!
Friday, August 19th, we drive from Fremont to Fresno and visit the Fresno Chaffee Zoo. At present, they have both Asian and African elephants and elephant keeper Kim Cook spent her day off at the zoo with us. I presented our work to both the Asian and African elephant keepers using our printout of the power point presentation, and it is delightful to hear about their elephants while watching them in person. I knew Amy from her story, A Cowboy and His Elephant, long before I met her when she resided with our friends, Scott and Heidi Riddle, where she gave birth to her daughter, Miss Betts. Heck, I first met Miss Betts as an ultrasound image which her human 'mom' convinced me was just the most beautiful little elephant ever. Kim has been hosting an annual CPK event for us and this was a great opportunity to give her our sincere thanks in person.
The beautiful scenery continues as we next head to Santa Barbara, California, and the Santa Barbara Zoo. Our first stop is a visit with Connie Speight, a friend I first met some years ago in Thailand, each of us working on behalf of Asian elephants via our separate nonprofit organizations. Connie has a beautiful home in the foothills. The billowing smoke from a wildfire on the other side of the Ynez Mountains is hugely impressive but not a threat….this time! Connie also was a docent and supporter of the Santa Barbara Zoo for years so she joined us the following morning when we visited and I presented AES to their staff and volunteers. Liz Beem and Liz Wilson, elephant keepers, have been hosting a CPK event for AES for the last five years; we see each other at the EMA conferences and they changed their Elephant Appreciation Day to coincide with our visit. It was great to visit again with them and Sujatha (Suzie) and Little Mac, their Asian elephants. A nice buffet lunch was served to all attending the presentations (I did two) and the afternoon was spent up by the elephant's yard with AES brochures to share with any interested visitors while watching Suzie and Little Mac and all the elephant-related activities. A truly lovely day, capped off with a wonderful seafood dinner on the oceanfront.
Next stop: Los Angeles Zoo where Cynthia's cousin, Jan Jashinski, joined us for a look at their Asian elephants, although we didn't get to see their bull, Billy; then lunch, a train ride, a stop at Jan's home and then off to Perris, California. Perris? California? Yes. We wanted to be on time the next morning for our visit at Have Trunk, Will Travel. Gary and Kari Johnson, Joann Smith, and three of their Asian elephants -Tai (I'm her #1 Groupie!), Rosie, and Kitty - made for a truly wonderful morning of being with elephants the way I need to be with elephants, up close, hands on. We talked elephants for a good four hours while we scrubbed, touched, watched, and simply enjoyed being in the company of Kitty, Rosie, and Tai. And, these people do so much to support Asian elephant medical research and conservation efforts…..this opportunity to be with them again reminds me just why I care so much about this specie's 'today' and 'tomorrow'.
Early afternoon we drove on to San Diego for three nights at my son's home with plans to visit the San Diego Zoo and the San Diego Wild Animal Park. My daughter-in-law, Geesoo, is always a lovely hostess with great kitchen talents, so again we had a nice respite from restaurants. And, of course, it is always good to see my family: Mario helped me with my phone; Rostam helped me with my computer, and their two Maltepoos, Georgie and Charlie, provided some good pooch time. We did visit the San Diego Zoo; sadly the day after the euthanasia of their ailing elderly bull, Ranchipur. I am glad I had the opportunity to see him on earlier visits and was there at this time to offer my condolences to their keepers who were very visible to their public answering questions and sharing their mutually sad moment. In spite of the circumstances, had very good visits with Robbie Clark, who has been caring for Ranchipur for the last four years and Victoria Zahn, who has been a keeper with elephants and now rhinos and whom I will be rooming with at the IEF/IRF Symposium in Singapore In November. Our second day in San Diego was to be the Wild Animal Park. It's wonderful; I was there a few months ago with my family and thoroughly enjoyed it. However, without a specific contact to meet, Cynthia and I decided we needed a 'day off' and so we enjoyed the pool and the beach and both seeing and sampling some of San Diego with Geesoo chauffeuring (the only day I never drove!).
Tucson, Arizona was our destination on the 26th, and arrived late afternoon at the home of Rich and Wanda Johnson, dear friends (and AES supporters) I've known for many decades. It was a lovely visit and another night not in a Super 8 or Days Inn – thank you Rich and Wanda. A scrumptious hot breakfast before we headed to the Reid Park Zoo while Rich and Wanda readied to leave that afternoon for a week's vacation. My friend Jenny Joyce, elephant manager at Grants Farm in St. Louis, introduced me to Mara Jameson and the initial understanding was she would not be in today but another keeper would visit with us. So, when we got to the elephant exhibit and met Savannah, I just dove in asking questions and presuming she had come out to greet us. Ahem. She really was headed to do something else but was most accommodating and friendly, and then Mara showed up and spent the rest of the morning with us. I often visited Reid Park back when they had two elephants: Asian, Connie, and African, Shaba and while I loved past visits with them, it was really good to be introduced to each of their new African elephants as well as seeing their great new facility.
Last stop! August 28th we visit the ABQ BioPark Zoo in Albuquerque, New Mexico. Here again I thank Jenny Joyce for introducing me to Rhonda Saiers, elephant manager, who wasn't at the zoo that day but had keeper, Debra Valquez, meet us and introduce us to all their elephants and visit their barns. I had been there when they hosted an EMA Conference several years ago, so it was good to see their new barn and become reacquainted with their Asian elephants. It was a great finale for our trip.
August 29th: 6,126 miles and back in my own driveway! Again, my thanks to Cynthia Christison for making this journey with me. Whether renewing friendships or making new acquaintances, I am always so humbled by the welcome all these very busy elephant keepers afford us. I guess it's simply that common bond of dedication to this amazing species that pulls us all together. While I love learning the elephants' stories and the history of elephants in this country, what really matters is sharing our thoughts and hopes and the ways we are all making an effort for the future of all elephants. Asian as well as African numbers are spiraling downward in a horribly frightful fashion. Poaching is taking a toll, yes; but so too is loss of habitat and the resulting human-elephant conflict. I hope someday we will have sustainable populations of Asian and African elephants in this country. But it is imperative we also help them manage to not just survive, but to thrive, in their native lands. I felt the synergy amongst all the wonderful people I met on this trip – zoo staff, keepers, docents, volunteers. It lifts me up and I hope we will work together even more in the future. And none of what we do would be possible without YOU, our donors, and our supporters. Elephants truly need our help. Thank you so much for being that 'wind beneath our wings'!
Linda Reifschneider
Annual board meeting
This past June AES board members gathered in North Texas at the home of Secretary Vanessa Gagne. We began our meeting Friday working ironing out all sorts of plans for the upcoming year through to 2017. Keep an ear out for exciting news about our CPK fundraiser for next year! Saturday we finished up our official business and were able to have a nice get together with some elephant friends we usually only see at the EMA conference. Lastly, on Sunday, we visited the Fort Worth Zoo to meet with their elephant department staff and see some Asian elephants. We were so happy to be together in person not only to conduct AES business, but to catch up with our colleagues. We are thankful for our friends, supporters, and the elephants that drive us to work harder for their cause.
President's Trip to India 2016
First stop was Guwahati, to visit Dr. Kushal Sarma at the University where he teaches, and then accompany him to Kaziranga National Park. On the border of the park, Linda got to participate in one of the many elephant health clinics that Dr. Sarma holds regularly for the private owners of elephants, many of whom are poor and therefore their elephants would not get necessary medical attention and preventatives were it not for Dr. Sarma's effort and AES' funding. It was especially good to meet some of the people and elephants Dr. Sarma has told us about over the years. After the health clinic, an afternoon of Kaziranga-style safari offered several viewings of the Greater One Horn Rhinoceros, another species both Dr. Sarma and Linda are particularly fond of.
The second stop was attending the Regional Asian Elephant & Tiger Veterinary Workshop at the Kerala Veterinary and Animal Sciences University. Dr. Arun Zachariah, professor at the University, and wildlife veterinarian AES has funded, was the host of this workshop funded by the United States Fish and Wildlife Service and facilitated by AES. Several veterinarians AES has funded were in attendance so it was a great opportunity to catch up in person.
The last few days of this trip were spent with Mamatha Sathyanarayana, the educator working with mahouts at some of the forest department elephant camps. In addition to a visit to the Dubare Elephant Camp, as well as a game drive in Bandipur National Park where we did see a tiger, Mamatha introduced Linda to many of the historic places in the Mysore area….as well as a stop at a small jaggery factory where we not only saw sugar cane being turned into sugar, we also got to taste it!
This trip will be detailed in multiple newsletter articles as it presented AES with the opportunity to visit in person with several people we have funded, meet new people who are also doing excellent work on behalf of elephants, and learn a bit more about the marvelous continent that is home to the largest population of Asian elephants.
presentation at las damas gathering
A morning's gathering in San Diego...
In February, our president, Linda Reifschneider, presented at the monthly meeting of Geesoo Reifschneider, her daughter-in-law's social group in Rancho Santa Fe, California. This was a wonderful opportunity to tell a new audience about the work Asian Elephant Support is doing, and their generosity added over $1,000 to our budget to help elephants.
Las Damas de Fairbanks is a woman's social group that does philanthropic work. They meet monthly to socialize and hear a presentation on a relevant topic of that time, and they support small charities such as Pegasus, where old and lame horses are used to help veterans with PTSD, Monarch school which provides housing for foster children when they turn 18 to keep them off the street, as well as larger charitable organizations such as the San Diego Botanical Gardens and Feeding America San Diego among others. In addition to their kindness and support of our efforts, we wish to give them a nod for the selfless good they do for so many others over the years.
And hopefully, our readers will see that AES doesn't just do presentations at zoos and elephant conferences, but are delighted to 'talk elephants' and our efforts on their behalf, at any gathering or organization that would like us and we can arrange to attend!
2015 EMA Conference
Early October found elephant professionals and enthusiasts from across the United States and abroad gathering in Nashville, Tennessee, for the 36th annual Elephant Managers Association conference. These events provide a wonderful opportunity to reconnect with old friends, make new friends, share accomplishments, and just talk about elephants. We even got to experience the flavor of the Grand Ole Opry. President, Linda Reifschneider, and Secretary, Vanessa Gagne, were in attendance to represent Asian Elephant Support and Linda presented the past year's projects and updates. It is always a pleasure to be able to share our efforts and to talk to the people that do so much for elephants on a daily basis, but still find time to help support our efforts. We gained a lot of new supporters and we were able to get our message out to a lot of new EMA members. Our information table was a busy spot for exchanging news and ideas! This year's conference took a much different approach than those of the last few years; the main goal was to find out how we, as the elephant community, can best serve one another by becoming more cohesive. This change in attitude will not only improve the care of elephants at Western facilities, but that information can be shared to improve the lives of elephants around the world. We are very excited and pleased to be working alongside elephant professionals in the EMA to better serve elephants and their caretakers.
September 2015 AAZK held their national conference in St. Louis, MO, which is also the headquarters of Asian Elephant Support. AES President Linda Reifschneider is a 20+ year docent at the St. Louis Zoo and personally offered to sponsor one of the breaks during the presentations. The AAZK hosts offered her a table to introduce AES to attendees. AES Secretary Vanessa Gagne registered to attend the conference; and thus we enjoyed a week with dedicated animal care professionals and the opportunity to 'talk elephants' for many, many hours! Vanessa signed up for the elephant workshop hosted by the St. Louis Zoo elephant staff. It was a 12 hour credit course offered through the professional development committee of AAZK. She was able to meet many elephant professionals from around the country and learn about the elephant management program at the St. Louis Zoo. Linda and Vanessa were impressed with the turnout and the diversity of information presented by the zookeepers in attendance as well as enjoying the company of such dedicated, capable, and enthusiastic people.
2015 Grant's Farm world elephant day - august
August 12th – the day to recognize and speak out for elephants – all elephants! Jenny Joyce, Curator and Elephant Manager at Grant's Farm in St. Louis, MO, and home of four African elephants: Mickey (Michelob), Bud (Budweiser), Toby, and Max, invited our president, Linda Reifschneider, to join their celebration and represent Asian elephants and the work of AES. The weather was perfect; the Grants Farm staff had lots of activities and handouts for attendees. And who better to be a winning ambassador for elephants than the elephants themselves, demonstrating behaviors with that elephantine winning charm while their keepers explained both the challenges facing elephants on their long trek into the next century as well as things each of us can do to make a difference.
Our thanks to Jenny and her entire crew: Brian Hollingsworth, Toni Scala- manning the activities that day, Katie Vechi, Angie Devous, Sam Weese, and Carrie Zbinden - caring for the elephants and also helping with event set-up and cleanup. It was a trumpeting success and we appreciated being included.
2015 annual board meeting - June
Our 2015 Annual Board Meeting was held June 12th-14th, at our President's home in St. Louis, MO. AES directors reside in the St. Louis, Dallas, and Norfolk, VA, areas and monthly meetings are held by conference call, so the annual in-person meeting is always a special time to work in person as well as enjoy each other's company. Directors arrived early Friday enabling a good half day's work session, a full day's work on Saturday, and a wrap-up session Sunday morning. April and Vanessa took Sunday afternoon to visit Grant's Farm and their African elephant program, while Barbara helped Linda set up for Sunday evening's dinner which included keepers from both Grant's Farm and Saint Louis Zoo's elephant barns and our St. Louis CPK volunteers.
2015 President's outreach at topeka zoo - May
President Linda Reifschneider was invited to participate in the Topeka Zoo's Conservation Conversation series on May 14th, discussing the care and conservation of Asian elephants in range countries. Linda always enjoys visiting the Topeka Zoo family. And Wrylie Guffey, who extended the invitation, is an important Asian Elephant Support volunteer with her help on our website.
2015 Party for the planet - April
On Saturday, April 18th, the Virginia Zoo celebrated Earth Day in a big way! Vice President, April Yoder was on hand to help the zoo goers learn about Asian elephant conservation and how AES supports the care and conservation of elephants in Asian range countries.
2015 AES President meets with Dr. Kushal - March
AES President Linda Reifschneider flew to Raleigh, North Carolina, April 8th-11th, for an update in person with Dr. Kushal K. Sarma, our veterinarian friend from the Assam, India, area who, with AES funding, has held elephant healthy clinics as well as making emergency 'house calls' when needed. Dr. Sarma was an instrumental participant in the Elephants on the Line community conservation program taking place in Bhutan and northern India and was in Raleigh, NC, as guest of Scott and Lisa Mills, to present to various university and public audiences about this conservation effort. It was good to visit with Dr. Sarma again in person, Linda having met him a few years ago at a veterinary workshop in Sumatra. His presentation was most informative and attention riveting as this is a veterinarian who works hands on with both captive and wild Asian elephants needing his expertise. It was also good to meet Scott and Lisa and hear about their efforts and commitment to this community based program.
2014 AES President's Outreach at the Houston Zoo
On December 2nd, 2014, AES president Linda Reifschneider was invited to give a presentation in Houston by Daryl Hoffman, the Curator of Large Mammals at the Houston Zoo.
The audience was enthusiastic, knowledgeable, and an engaging question and answer session followed. It is always a privilege to visit Houston Zoo's elephant barn as they have an amazing group of Asian elephants. Their keepers are capable, dedicated and most welcoming to and supportive of our efforts.
We at AES appreciate and applaud the work they do with Baylor College of Medicine to advance the treatment of Elephant Endotheliotropic Herpes Virus (EEHV) patients while working toward the answers that will eliminate this disease. Thank you, Houston Zoo, for all that you do for Asian elephants!
2014 Teaching the Next Generation the Value of Elephant Conservation
On November 11, 2014 Director Vanessa Gagne took a trip to Evans Middle School in McKinney, Texas. She was invited to speak there by their science education coordinator. The purpose of her presentation was to highlight the current lessons in the 6th grade science curriculum using elephants as a teaching tool. She began with how modern elephants evolved, the different types of modern elephants, and tied it all together with how the children can make a difference in the conservation of these amazing creatures.
Vanessa gave six, 45 minute presentations that school day to some really engaged and bright-eyed kids. She was fortunate to be able to take elephant tail hair with her for the students to touch and she talked about adaptation for the purpose of function; the hair on our heads is made out of the same stuff!
All in all the kids were very receptive and asked a ton of questions; she barely had time to go to the next slide in most cases. Vanessa reports that it was so rewarding to teach the next generation about not just the conservation of elephants, but of all animals and plants worldwide.
35th Annual EMA Conference Toledo, Ohio 2014
This year the Elephant Manager's Association conference was held in Toledo, Ohio and hosted by the Toledo Zoo. Ben Whitebread, their elephant manager, and his crew put together a wonderful program full of a wide variety of topics to both educate and entertain. AES was well represented at the conference with three directors and one chairperson in attendance. AES president Linda Reifschneider presented on behalf of AES, while Vice President, April Yoder presented on behalf of the EMA Conservation Committee (another hat she wears). You may remember in the past an effort in collaboration with the EMA to provide hoof knives for mahouts in Assam, India. This year AES is supporting the EMA/IEF effort to raise funds for the knives which will be sent to Myanmar this go around.
We were also pleased to become reacquainted with the two co-founders of Wildlife SOS, Geeta Sheshamani and Kartick Satyanarayan, who work diligently in India to rescue and rehabilitate not just elephants, but sloth bears among many other animals in need. We discussed the possibility of collaborating with SOS Wildlife in the future and will be looking for ways to work together to improve the care and conservation of elephants in India.

All in all the trip was full of friends and colleagues, old and new, the chance to visit two elephant programs at both Toledo and Cleveland, and two days full of engaging presentations. Again, we'd like to thank the Toledo Zoo and all of those who made this conference possible.
2014 Asian Wildlife Conservation Day at the Woodland Park Zoo
Saturday, August 9th was Asian Wildlife Conservation Day at the Woodland Park Zoo in Seattle, Washington. This day was dedicated to bringing awareness to the many animals of Asia who are in need of protection.
I have been volunteering for AES for about 4 years and live near Seattle, and I had the honor of setting up a table for AES at the event. I brought along my two helpers: my husband, Monte, and our 10-week old baby, Ari! We were very excited that our table was set up next to the elephant exhibit, because people coming to see Chai, Bamboo and Wototo also got to learn a little bit about what AES does (and Ari got to see his first elephant!).
We had some great conversations with people who truly care about the future of Asian elephants. The Woodland Park Zoo is doing great work to help secure a future for Asian elephants and we were honored to take part in the day's festivities. We would like to extend a thank you to the Zoo for hosting us, and an even bigger thank you to Bobbi Miller, Fred Koontz and Pat Mulay for everything they did to help us feel welcome.
2014 World Elephant Day at the Little Rock Zoo
Arkansas and the weatherman provided a lovely resort-weather day for this event on August 12th. The Little Rock Zoo education department and elephant barn offered crafts for the kids, promoted the 96 Elephant Campaign to help African elephants, and invited Asian Elephant Support down to talk with their visitors about our efforts helping elephants in Asian range countries. Saint Louis Zoo docent and AES volunteer, Cynthia Christison, accompanied Linda and helped with our table of information as well as T-shirts and bumper stickers that were available for purchase. And lovely Asian elephant Babe, who likes to paint, had 7 of her masterpieces gobbled up by her admiring public and donated the funds to help her cousins across the ocean. Thank you Little Rock Zoo for a most enjoyable celebration of Asian elephants!
Annual Meeting 2014
Our 2014 annual meeting was held in Norfolk, Virginia, the weekend of May 30-June 2. The meeting was held at the offices of Atlantic Commtech Corp and our thanks to Mr. Kelly Thorp for making his conference room (and coffee pot!) available to us. Saturday began with an early walk on the beach with host, Director April Yoder, and her canine companion, Minnie, followed by a full day of work, interrupted only for lunch and dinner. We met again all day Sunday, with the exception of a break to visit the Virginia Zoo and their two African elephants, Cita and Lisa, and keepers Jason and Denise. It was a very productive weekend and offered the great perk of some really wonderful seafood dining.
Little Rock Zoo & a Birthday Bash to Boot!
On Saturday, March 29, the Little Rock Zoo chapter of the Association of American Zoo Keepers (AAZK) hosted a "Birthday Bash" for their three female Asian elephants: Zina (53 yrs.), Sophie (45 yrs.), and Babe (39 yrs.). Asian Elephant Support was invited to participate in the gala and we were given a table at the event to interact with their visitors and introduce them to AES. AES president, Linda, also gave a presentation for the staff and volunteers on Friday to update them on our work over the past two years.
The Birthday Bash began at 10 a.m. and while the girls were enjoying a bright, but windy, spring day in their yards, the barn was opened to visitors. Throughout the barn, there were educational tables with kids crafts and games.Zina, Sophie, and Babes paintings, other art work, and some nifty silent auction events were offered for sale. There was also a table displaying some of the tools used in elephant husbandry with a keeper there to explain the "how's" and answer the "why's". At the AES table there were brochures, signs, and T-shirts and bumper stickers for sale. Linda was able to interact with the visitors, discuss important elephant conservation issues, and explain how AES's projects support the captive and wild elephant populations in Asia. A steady stream of visitors enjoyed the opportunities this event presented. At 2 p.m. the barn was emptied and everyone gathered around the girls' yards as they received their birthday presents and individual birthday cakes on this special day!
Zina, Sophie, Babe, their keepers, zoo staff and volunteers, and the entire Little Rock Zoo AAZK Chapter are all ambassadors for the elephants' wild cousins, as they most generously donated half of the proceeds from their sales that day to Asian Elephant Support! What an amazing birthday party when "giving" is every bit as celebrated as "getting"! AES is an all-volunteer nonprofit organization, which means Little Rock Zoo's entire generous donation of $664 will be put to work helping improve the health, welfare, and conservation of elephants in Asian range countries.
It was a wonderful day with good people who are dedicated to the animals in their care. Thank you, Little Rock Zoo staff, volunteers, and especially AAZK Chapter members and elephant barn keepers! And thank you, too, Zina, Sophie and B
2014 A New Volunteer for AES
Wrylie has been working for the Topeka Zoo for about six years, three of which have been with elephants. She started there as an intern in high school. Her love for elephants developed at an early age with books and stories but also getting to see the two elephants at the Topeka Zoo. She wanted to get involved with AES because of our projects in range countries. She was willing to help in any way she could, and she has had training in web development and maintains the Topeka Zoo website, so it was a perfect match for her to help with our website. Wrylie's help has already proven invaluable and we're incredibly grateful that she is willing to extend her expertise for our benefit. Welcome, Wrylie! We're so glad to have you on board.
2013 Elephant Manager's Conference - October
Asian Elephant Support has had representation at many Elephant Managers Association (EMA) conferences, even before AES became a non-profit. Because we believe these conferences are a valuable resource in Asian elephant conservation, the AES Board members are willing to pay their own travel costs in order to attend.
The EMA is an international non-profit organization of professional elephant handlers, administrators, veterinarians, researchers, and elephant enthusiasts. These are the people who share the joys and never forget the sorrows that are part of being dedicated to the care and future of this magnificent animal. The EMA is dedicated to the welfare of the world's elephants through conservation, husbandry, research, education and communication. Members adhere to a code of professional ethics and are committed to providing care for elephants at the highest professional level.
The conference always begins with a social event for people to see old friends and start developing new relationships centered on working with elephants. October 7 and 8 were full of interesting presentations from elephant keepers, managers, zoo directors, conservationists, researchers, and veterinarians from around the world.
This was an opportunity for us to gain first-hand knowledge of the work being done around the world to improve the lives of elephants in captive situations and in wild populations. It is also a time to share the work that AES has been able to accomplish over the year as a result of the generosity of our supporters.
Director, April Yoder, gave a presentation on AES and we were also given a display table so we could educate the attendees on our conservations efforts and of the needs of elephants in Asian range countries.
The individuals who work closely with elephants every day have a unique opportunity to share information with the general public. It is this knowledge and awareness that will truly make a difference for the future of Asian elephants.
While many of the people who attend the EMA conferences work directly with elephants in some capacity, it is not a requirement for membership. The EMA members who are elephant enthusiasts are a power force in the battle for the elephants' survival. Our president, Linda, received an award from the EMA board of directors for founding AES and for her continuing enthusiasm for elephants.
The remainder of the conference provided similar opportunities to share knowledge and experiences. The day at the Dallas Zoo included behind the scene tours, demonstrations, and workshops. Even the evenings were full of events and plenty of conversations about elephants.
We would like to thank the Dallas Zoo staff for making the 34th annual conference a great experience and we encourage everyone to become involved in the EMA and the elephant community. The 2015 conference will be in Toledo, Ohio. YOU are invited! To learn more about the EMA visit www.elephantmanagers.com.
2013 International Elephant & Rhino Conservation and Research Symposium - August 26-30, 2013
The 2013 International Elephant & Rhino Conservation and Research Symposium was presented by the International Elephant Foundation (IEF) and the International Rhino Foundation (IRF) and was hosted by the Pittsburgh Zoo & PPG Aquarium.
Typically these foundations have separate symposiums, but elephants and rhinos share similar habitats and face similar conservation issues, so a joint meeting is only logical. This was the third time these organizations have come together to share information and research project results on conservation issues such as human conflict mitigation, management, health, nutrition, and reproduction. Participants were from around the world including the US, Canada, Germany, France, Indonesia, Sri Lanka, Myanmar, Uganda, and South Africa.
There were over 65 presentations ranging from the latest research on the elephant endotheliotropic herpesviruses (EEHV), to the translocation of black rhinos, to how captive elephants can benefit wild populations. AES president, Linda Reifschneider, gave a presentation on AES' activities for the last year and the importance of collaboration.
directors
While the presentations were very enlightening, many valuable conversations also occurred during the social events. some of the best ideas are written on a cocktail napkin!
While elephants and rhino populations are disappearing at an alarming rate, the information that is shared at these symposiums will provide a framework for preserving both of these magnificent species. Thank you to the International Elephant Foundation, the International Rhino Foundation, and the Pittsburgh Zoo & PPG Aquarium for providing this great educational and networking opportunity.
2013 AES Annual Board Meeting - June
To maintain good communication and achieve Asian Elephant Support's goals, the members of the board of directors have monthly conference calls to discuss on-going projects and a wide variety of other foundation business. However, once a year we have our annual meeting where we get together in person. This year we chose Orcas Island, Washington, near the home of director Gretchen.
Linda arrived from St. Louis, Missouri, April from Norfolk, Virginia, and Sharon drove up from Portland, Oregon and we met at the Woodland Park Zoo Friday morning to get our elephant fix. The zoo staff spoiled us by allowing us to meet their elephants while picking their brains about their pachyderms. It was hard not to be charmed by Bamboo's, Chai's, and Watoto's unique and mischievous personalities. A special thanks to Pat, Pattie, and Bruce for taking time out of their busy days to allow us this special visit.
That afternoon, we caught the ferry from Anacortes to Orcas Island. While we were wishfully hoping for some Orca sightings, we were delighted at the porpoises accompanying the ferry. Upon arrival to the island, Linda treated us to a delicious dinner and then we made our way to Gretchen's family's cabin. We are extremely thankful for the use of Ann Jones and Caroline Kingsbury's gorgeous (and extremely comfortable) cabin!
We spent the whole day Saturday, with the exception of about an hour, at our computers, discussing our projects and future. We couldn't have asked for better weather. Sunny weekends are hard to come by in the Pacific Northwest, but that's indeed what we were granted (April took the credit for bringing the sun from Virginia). No matter the sun's source, we were grateful it graced us with its presence.
Sunday morning we were back on our computers to finish up some last minute business and then we trekked back to the ferry so that Linda could catch her flight the next day and so that April and Sharon could drive back down to Portland. April was also able to fit in a visit at the Oregon Zoo, where she was a former elephant keeper.
Together we accomplished a lot of foundation business, enjoyed our elephant experiences, and enjoyed the face-to-face interaction that we only get once a year. Each annual meeting affords us renewed enthusiasm and determination to do everything possible to save these magnificent animals.
2013 Asian Festival - May
Since 1998, the Asian American Society of Central Virginia has hosted the annual Asian Celebration. The 16th annual Asian Celebration was held in Richmond, Virginia on May 4, 2013. Thousands of people gathered at the Greater Richmond Convention Center to celebrate Asian culture through music, entertainment, authentic cuisine, art, exhibits, and shopping. AES Director, April Yoder and volunteer, Erin Johns were able to participate and share information on about the plight of elephants in Asian range countries and how AES is working to support elephant conservation.
2013 Earth Day - April
On Saturday, April 20, 2013, AES Director, April Yoder represented AES at the Earth Day Celebration at the Virginia Zoo in Norfolk, VA. There were several local environmental organizations and agencies at the event providing information on many environmental issues such as clean air and water, and the use of solar energy. April was on hand to share information and answer any questions about elephants and the elephant conservation projects AES supports throughout Asia.
3rd Annual California Pizza Kitchen Fundraiser - April, 2013
Thank you to all our friends and family for promoting our event, making long drives, sharing our mission, and eating for elephants! The numbers are starting to roll in and it looks
like this year's event was an even greater success than last year!
We would like to say a special thanks to all of our local representatives out there!
Pat and Molly Flora - Birmingham, AL
Victoria Girdler and Robbie Clark - San Diego, CA
Liz Wilson - Santa Barbara, CA
Liz Beem - Ventura, CA
Vanessa and Michael Gagne - Dallas, TX
Erin Johns - Richmond, VA
A special "trumpet" goes to Whitney Jones, Kim Schaefer, Cynthia Christison, and Barbara Davis for their help and for greeting and thanking our supporters during the event.
2012 Elephant Manager's Association Conference - November
For the last 33 years, the Elephant Managers Association (EMA) has held an annual conference. This is always a wonderful opportunity to share information, see old friends, and make new contacts in the elephant community. This year's conference was no exception. It was hosted by the Santa Barbara Zoo in beautiful Santa Barbara, California. The hotel was located across the street from the beach and in between conference activities you could always find at least a couple of attendees at the beach. The kickoff for the conference was a Hawaiian luau themed icebreaker, which included hula dancers, at the reception hall on the beach.
There were some wonderful presentations on various topics including husbandry, veterinary care, training, and of course, our favorite topic, conservation. We were very pleased to see an increase in the number of papers on conservation this year including an update on the recent survey of wild elephants in Sri Lanka, finding Elephant Endotheliotropic Herpesvirus in wild elephant populations in Africa and Asia (watch for an article on this virus in next month's newsletter!), and the palm oil crisis, to name a few.
Director April Yoder gave a presentation on the activities of Asian Elephant Support and launched the "Hoof knives for Mahouts - India" project, which is a collaborative effort between the EMA and AES. An AES supporter and good friend, Molly Flora, is a licensed massage therapist and offered to give a chair massage one evening for a donation to the hoof knife program. She raised $90 in a matter of hours to help provide tools for the mahouts in India. Director Sharon Glaeser also gave an excellent presentation on the social management of the male calf at the Oregon Zoo.
Three of the four directors were able to attend this conference so we had an informal meeting to discuss Asian Elephant Support activities. We held the meeting at a restaurant that is part of the Good Dining program so we were raising money for AES while talking about AES.The zoo staff provided the attendees with other opportunities to see Santa Barbara. This included an evening on the town, a wine tasting, and a day at the Santa Barbara Zoo, which was only a block from the hotel. The Santa Barbara Zoo staff did a wonderful job and it is always great to spend three days talking about nothing but elephants!
We look forward to next year's conference hosted by the Dallas Zoo.
2012 Annual Meeting - June
To maintain good communication and achieve Asian Elephant Support's goals, the board of directors has a monthly conference call to discuss on-going projects and a wide variety of other foundation business. However, once a year we have our annual meeting where we get together in person. This year we chose St. Louis, Missouri, the home of our president and the headquarters for Asian Elephant Support. On Friday, June 8th, Sharon arrived from Oregon, April from Virginia, and Gretchen from Washington.Once everyone had arrived we headed off to the only logical place for dinner, The Elephant Bar Restaurant.
We started our meeting early Saturday morning and worked for two and a half hours, then took a break and drove to Grant's Farm, a special St. Louis venue. Thanks to Jenny and her team, we had a wonderful visit with the park's elephants, Bud and Mickey.
It was back to work for a few hours before going to dinner at the Pasta House Company. As we continued our discussions during dinner, we were also helping Asian elephants because a portion of our bill was donated to Asian Elephant Support through the "Good Dining" Program. For more information on the "Good Dining" program, visit Goodsearch Shopping.
Sunday morning the computers were humming again. We spent the afternoon at the St. Louis Zoo and enjoyed watching their herd of Asian elephants and talking with the staff. The newest addition to the herd, Kenzi , was a joy to watch as she raced around her mother and grandmother while her older siblings enjoyed a swim in the pool.
Sunday evening, Linda hosted a get-together at her house for all the keepers from Grant's Farm and the Zoo. We saw some old friends and made a lot of new friends that evening. Everyone enjoyed the conservation and helped support Asian Elephant Support by having dinner that was delivered by Pasta House Company. Monday morning we were back at the computers for our last working session. It was a great weekend of work and fun. Together we accomplished a lot of foundation business, enjoyed our elephant experiences, and enjoyed the social time with our St. Louis friends. That afternoon we headed to the airport with renewed enthusiasm and determination to do everything possible to save these magnificent animals.
2nd Annual California Pizza Kitchen Fundraiser - April, 2012
Our 2nd annual California Pizza Kitchen fundraiser was a big success! We expanded our number of locations to 23 this year, which spanned from Delaware to Maryand, Missouri, Oregon, Texas, Virginia, California, and Washington. We are grateful to everyone who came out to help support us! It was wonderful to hear about all the people across the country that took time out of their busy schedules to help Asian elephants.
A special thanks to Liz Wilson in Santa Barbara, CA and Vanessa Gagne in Dallas, TX, for hosting CPK fundraisers in their area. We would also like to thank Bruce Upchurch in Seattle WA, Whitney Jones, Kim Schaefer and Cynthia Christison in St. Louis, MO, Patti Villareal in Portland, OR, Erin Johns in Richmond, VA and all those who promoted this event to make it such a success.
This will be an annual spring event and we are hoping that next year it will be even bigger. However, if you are interested in hosting a fundraiser for Asian Elephant Support, you don't have to wait until next year. You can host a California Pizza Kitchen fundraiser at any time. Email us at elephants@asianelephantsupport.org for more information.
Earth Day 2012, Party for the Planet - April
The first Earth Day event was held on April 22, 1970, and is considered the birth of the modern environmental movement. After the oil spill disaster in Santa Barbara, California in 1969, Earth Day founder Gaylord Nelson, then a U.S. Senator from Wisconsin, was inspired to combine the anti-war energy and the growing concern for the environment to create an environmental movement. That year 20 million Americans participated in a coast-to-coast rally for a more healthy and sustainable world.
Among other things, this first Earth Day led to the creation of the United States Environmental Protection Agency and the passage of the Clean Air and Clean Water Acts, and the Endangered Species Act, which helps protect Asian elephants today.
To help celebrate this event, the Virginia Zoo, in Norfolk, Virginia hosted their annual Earth Day and animal enrichment event called "Party for the Planet" on April 21, 2012. Director, April Yoder was able to attend the event as a representative of Asian Elephant Support. April's father, Sheldon, who serves on our communication committee, was in town visiting and was also able to help with the event.
Participants arrived bright and early on Saturday morning to set up for the event. There were several local environmental organizations and agencies at the event providing information on many environmental issues such as clean air and water, and the use of solar energy. Throughout the day April and her father had an opportunity to talk to the zoo visitors and even catch up with some friends that work with the zoo's two elephants, Lisa and Cita.
April is the Chairperson for our Education committee so she took this opportunity to share information about the Palm Oil Crisis and how as consumers, we can make a difference for elephants in Asia.
Click here for more information on the Palm Oil Crisis.
2011 International Elephant & Rhino Conservation and Research Symposium - October
Our foundation President presented at the 2011 International Elephant & Rhino Conservation and Research Symposium, hosted by The Rotterdam Zoo and the International Elephant Foundation, 10 - 14 October 2011.
This was my first European International Elephant Foundation (IEF) Symposium and the first time I participated in a symposium that included both elephant and rhino conservation and research papers. The Symposium began the day after the Elephant Managers Association Conference (EMA) in Rochester, New York, so I missed the last day of the EMA activities and had to hit the ground running in Rotterdam.
There were approximately 115 participants from 16 countries and featured 4 days of papers, a total of 58 presentations in all. The papers were equally divided among elephant and rhino papers, except for the second day, which consisted of a half-day of papers and half-day workshop on the endotheliotropic elephant herpes virus (EEHV). Black rhinos are the endearing creatures that convinced me to do my first volunteer travel more than 15 years ago. I didn't believe the poaching situation could possibly be any more horrific than what is happening to elephants in Africa today. I was wrong. This year, African rhinos are being poached at the rate of one every 20 hours and the methods used to take the horns have become more barbaric with technologic advances. For more details on rhino conservation, I recommend visiting these websites:
Save the Rhino (www.savetherino.org)
International Rhino Foundation (www.rhinos-irf.org)
As always, I was impressed and honored to be among such a talented and dedicated group of wildlife champions. One of AES' colleagues in Asia, Dr. Arun Zachariah, gave a riveting presentation on the EEHV in elephants in Southern India. He has documented 15 cases of EEHV in young elephants representing both the captive and free ranging Asian elephant populations. This extremely important research project is a collaboration between researchers from the viral oncology program at Johns Hopkins School of Medicine, the National Elephant Herpes Virus Laboratory at the Smithsonian Zoo (both in the U.S.) and the Wildlife Disease Research Laboratory in Kerala, India. This is the first report of EEHV infections in free ranging elephants, which highlights the need to study EEHV diseases in the world's largest population of Asian elephants. While finding cases of EEHV would not be considered good news, the importance of knowing what is happening regarding potential diseases cannot be understated. There can be no hope of victory if we do not know the enemy! We are grateful for the work Dr. Arun and his colleagues are doing and we are thankful AES has been able to fund a portion of his work (see our Project page, Emerging Diseases and Conservation in India).
Asian Elephant Support also gave a presentation about our mission, goals, and ongoing collaborations to benefit Asian elephants. We received positive feedback from elephant scientists, veterinarians, field researchers, and elephant managers and, as a result, our supporters can be assured that their financial contributions are being put to work most efficiently and effectively. You are making a difference! I thank you and I hope you will continue your support for Asian Elephant Support. The coming year promises to be another difficult year for Asian elephants and they will need all the help we can give them.
2011 EMA Conference - October
AES sponsors Richard Lair as keynote speaker at the 2011 Elephant Managers Association Conference (Rochester, NY)
Asian Elephant Support was pleased to be able to sponsor Richard Lair's attendance as keynote speaker at the 2011 Elephant Managers Association (EMA) Conference in Rochester, NY, in October. Linda, Sharon and April were in attendance at the conference and Gretchen was able to visit with him in Seattle after the conference.
Richard Lair is a world famous expert and conservationist who has had an exciting and diverse career working with and writing about elephants in Thailand. He is a native Californian and has lived and worked with Asian elephants for 34 years, 31 of which were in Thailand. He moved to Thailand in 1980 and volunteered with the Association for the Conservation of Wildlife, the country's first conservation organization.
In 1988 he wrote the first scientific paper on the numbers and status of Thai domesticated elephants, pointing out the new threats facing a greatly diminished population. In 1997 he wrote "Gone Astray: The Care and Management of the Asian Elephant in Domesticity" for the Food and Agriculture Organization of the United Nations, and this publication remains the definitive text on domesticated elephant in Southeast Asia. In 2005 he edited and coauthored an "Elephant Care Manual for Mahouts and Camp Managers." His next project will be a review of Thai law on both wild and domesticated elephants, including possible directions for the future.
For twelve years he worked at the Thai Elephant Conservation Center (TECC) as an advisor. In 1993 he founded, trained and managed the Second Unit elephants for a Walt Disney film, "Operation Dumbo Drop." He also worked on Oliver Stone's "Alexander" as safety and animal welfare officer. He was the first person to train elephants paint in Thailand and is cofounder and co-director of the one and only, world renowned, Thai Elephant Orchestra. The Orchestra has just released its third and final CD entitled "Water Music."
Richard's travel and speaking engagements kept him very busy on this trip, and we are grateful to Richard for sharing his knowledge and experience with so many other elephant professionals.
After spending a couple of days with friends in San Francisco recuperating from the long flight from Lampang, Thailand, Richard's first stop was Little Rock, Arkansas and it started out a little 'rocky'. Due to bad weather in Houston, Texas, his flight to Little Rock on Thursday night was cancelled. The next flight out was not leaving until 8:00am Friday morning. Unfortunately, he was supposed to speak at the Little Rock Zoo at 7:30am Friday morning at a breakfast presentation for Zoo donors and volunteers. However, in the end everything worked out. April filled in for Richard at the breakfast and Richard arrived safely later that morning. We spent about an hour and a half at the Zoo's elephant barn talking with the staff and meeting the two resident elephants, Zina and Jewell. Then it was off to lunch with a couple of the professors from the University of Arkansas Little Rock before his speech at the University. His speech was written for an audience of elephant professionals, so he modified it slightly for the students. He talked a little about his background and the elephants in Thailand, but focused on how he combined his love of art with his love of science. His point for the students was to not limit themselves and to find something they are truly passionate about.
Later we met Linda, our foundation President, back at the Zoo and took a tour of the rest of the zoo. Then it was off to the Riddle's Elephant and Wildlife Sanctuary (www.elephantsancutary.org) to visit with Scott and Heidi Riddle. After a good visit with the Riddles, Richard and Linda flew to Orlando for a day's visit to Ringling's Center for Elephant Conservation, whose motto is: "Endangered Species? Not if We Can Help It." It was a privilege to meet with both old and new friends at the CEC and we greatly appreciate everything they have done for Asian elephant conservation and research over the years.
Next, it was off to Rochester, New York. The staff and volunteers at the Seneca Park Zoo did a fabulous job hosting the 32nd Elephant Managers Association conference. There were approximately 110 participants from around the world and everyone enjoyed Richard's keynote speech. It was fascinating to hear about his journey through life and how he ended up working with the elephants of Thailand for 31 years.
Richard then traveled to the west coast to present at the Woodland Park Zoo in Seattle, and to catch up with some old friends. The Woodland Park Zoo were gracious hosts and set up a very nice event, complete with an elegant reception with appetizers and beverages. Richard gave an engaging presentation about his experiences with elephants, and focused primarily on the situation of elephants in Thailand, where he has been living for over 30 years. Gretchen and her husband had worked for Richard in Thailand for 6 months and hadn't seen him for 2 years, so they were excited to meet up with him at the event. Richard then went on to visit other friends and family in Montana and California before returning to Thailand.
2011 AES Annual Board Meeting - June
Our board held its annual meeting today in Portland Oregon, which is where Director Sharon Glaeser does elephant research. We thank the Oregon Zoo for offering the use of a meeting room. Director April Yoder gave a presentation on the palm oil crisis, and we spent a lovely afternoon in the elephant barn thanks to the fabulous elephant staff and their magnificent group of elephants. In our photo, April enjoys a reunion with the elephants that she had cared for over many years.
2011: Domain change - June
Asian Elephant Support has changed its domain provider from GoDaddy to Namecheap.
2011: CPK Fundraiser - April
A GREAT TASTING AND FUN FUNDRAISER
Asian Elephant Support held its first fundraising event at the California Pizza Kitchen (CPK) in Chesterfield, MO. Since that's our president's home turf and she organized the event, we'll let Linda share the day:
"When I first looked at the marketing bits about doing such a fundraiser with California Pizza Kitchen, the examples they gave were entire school events netting several thousand dollars. That I knew we weren't! But with fundraising being difficult for a newer nonprofit and especially in this economy, I decided to make the inquiry.
To sum it up: a delightful day! The managers at CPK were most helpful....and I think a bit amazed and sympathetic as I arrived at 10:30 a.m. and left shortly before 10 p.m., after our last supporting diners were served their dinner (they even sent me home with a complimentary piece of a wonderful chocolate cake!). But I wanted to greet everyone who made the effort to come out and support us and, honestly, from 11 a.m. until almost 3 p.m., I was delighted to see several smiling familiar faces come through the door. Then I had a chance for me to grab a late lunch and the early diners, led by my mom, her friend and my sister, started arriving shortly after 4 p.m. From family to friends and friends of family and friends - including the entire Grant's Farm elephant barn staff and friends - at the end of the day, Asian Elephant Support had added some much needed funds to its bank account, and the support, friendship was a wonderful and greatly appreciated vote of confidence.
Thank you Jean for thinking of taking pictures for me. Next year I will remember my camera. Yes, next April there will be the Second Annual CPK Fundraiser Asian Elephant Support, and I'm already spinning some ideas to make it an even more enjoyable event!
Thank you to each and every one of you who made this a very special day!"
2010 EMA Conference - October
Two of our directors attended the Elephant Managers Association (EMA) 2010 conference, which was held in Pittsburgh, Sept 30 through Oct 3. The EMA is an international non-profit organization of professional elephant handlers, administrators, veterinarians, researchers and elephant enthusiasts.
Our president, Linda Reifschneider, gave a presentation on the role of AES in elephant conservation and her personal history in the conservation of Asian and African elephants and other wildlife in range states. Her presentation walked through her early years of being an elephant enthusiast and highlighted how her visits to the zoo, her involvement as a zoo volunteer, what she learned from elephant keepers, and her participation in the global elephant community gave her the tools she needed to make a difference in the future of the species. Her presentation touched the hearts of many at the conference and sparked new ideas for collaboration.
The EMA has a very active conservation committee that supports mahouts and elephants in both African and Asian range states. Together we can make a difference.
To learn more about EMA, please visit www.elephantmanagers.com.
2010: Directors -August
We are deeply saddened by the sudden passing of our newest director, Lynda Cole. Lynda was a good friend of the AES president and we were excited to partner with someone of such talent, knowledge and enthusiasm for all flora and fauna.
Monteo McCudden has agreed to serve as our Interim Director. Monteo earned her degree in biology and has always sought ways to contribute to conservation efforts by volunteering. She has learned about elephants through her volunteer work with captive elephants, and she is keenly interested in helping endangered animals and protecting and conserving land.
Also joining in our efforts to help elephants and those who care for them is Gretchen Rumsey. Gretchen has travelled throughout SE Asia volunteering with elephant centers, and she hosts her own elephant blog (All Things Elephant) . Her goal with her blog is to provide a forum for dialogue for anyone that cares about conservation. Gretchen will be leading our Fundraising Committee.
2010: Directors - July
Lynda Cole has joined our board as a new Director and Jerry Koranda has stepped down. Jerry helped us through our transition to Asian Elephant Support, and he leaves us to pursue other interests and commitments. We greatly appreciate his service and wish him all the best. Lynda has a long-term commitment to conservation and animal care. She is also the Director of a turtle rescue and educational NGO, St. Louis Midwest Turtle & Tortoise Society, which is dedicated to the preservation of wild turtle and tortoise populations and to the care of animals already in captivity. We believe her experience and dedication will be of great benefit to the mission of Asian Elephant Support and we look forward to working with her to help Asian elephants in their range countries.
2010: CPK Fundraiser - April