From the perspective of new board member, Janet
I had two major objectives when I joined the trip to Thailand for the mobile vet dedication on Thailand Elephant Day:
To see for myself how AES funds are put to use,

To learn more about Asian elephants in one of their range countries.
Let's just say this trip delivered on these items and more. I met recipients of AES grants: camp managers, workshop participants, the wonderful elephant vets and researchers at Chang Mai University and AES partners. Some funds are used to improve camp conditions for some captive elephants. It was thrilling to actually see the mobile vet van in use, with vets treating elephants at different camps and facilitating research data collection.
I traveled from Chang Mai to Chang Rai in the new mobile vet van purchased with AES funds. If I had to choose a highlight of the trip, this was it. I saw the countryside where the wild elephants reside, visited a number of different types of camps and watched the vets interacting with the patients and clients. I realized firsthand how remote the camps are from elephant medical facilities and experienced that the CMU van was able to handle the rough terrain and winding roads. We met camp managers, mahouts, veterinarians and respected experts in the study of Asian elephants and, yes, even an elephant chiropractor.
Throughout all these travels in the van and a very informative stay at Elephantstay (a great place to learn about the life of a mahout), I don't think a day passed without seeing multiple elephants. From meting the first Thai calf conceived through artificial insemination named AI, seeing a calf less than 2 weeks old and a cow almost ready to give birth, to treating scrapes, collecting blood draws and checking on a lame elephant - all were part of the job of the mobile vet. At the Friends of the Asian Elephant (FAE) elephant hospital, I even had the opportunity to see an elephant being treated for an injury from a land mine. The hospital has a lab that can produce prosthesis for wounded elephants!
There were so many other discoveries on this trip. I wish I could tell you about each and every one. Overall, I could not be more proud of the people and work enabled through the donations made to AES. It was gratifying to see the vet being able to treat remote elephants in the field. The studies and recommendations of Chiang Mai University are so important to the survival of the Asian elephant in Thailand and elsewhere.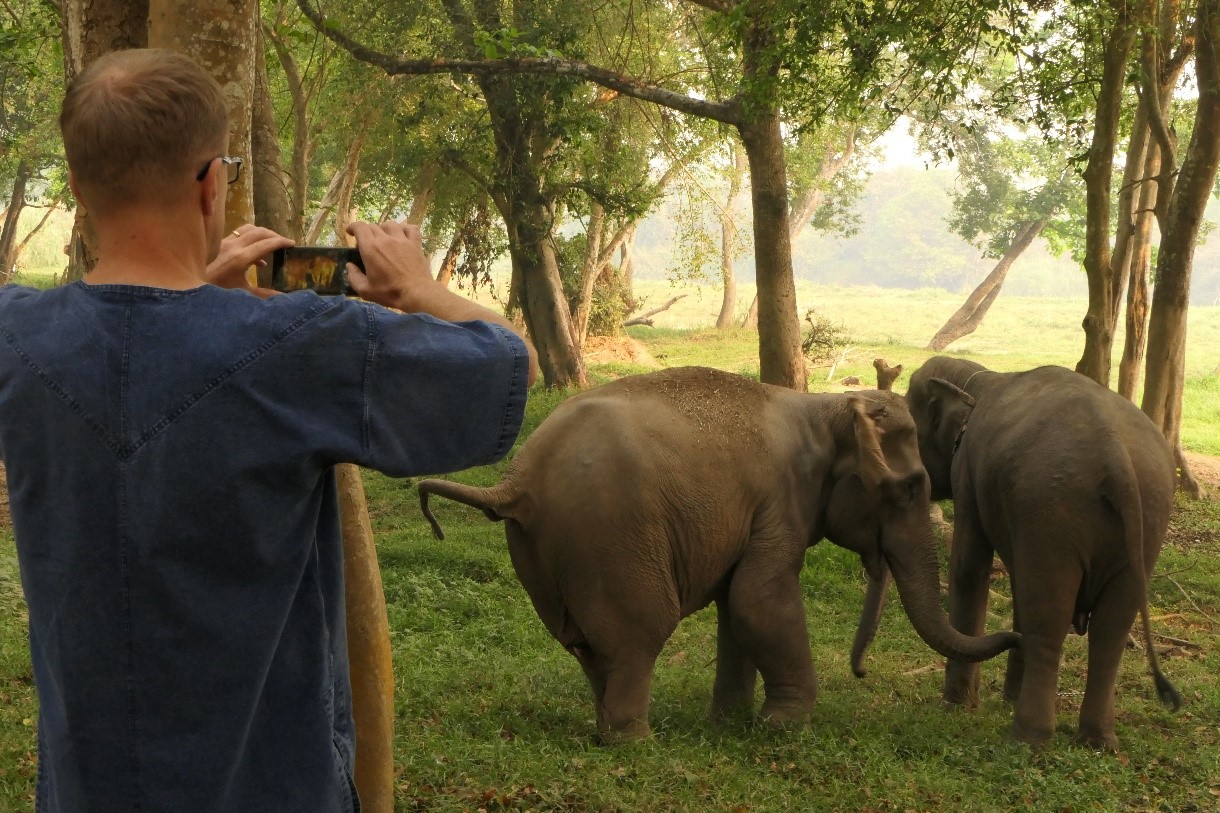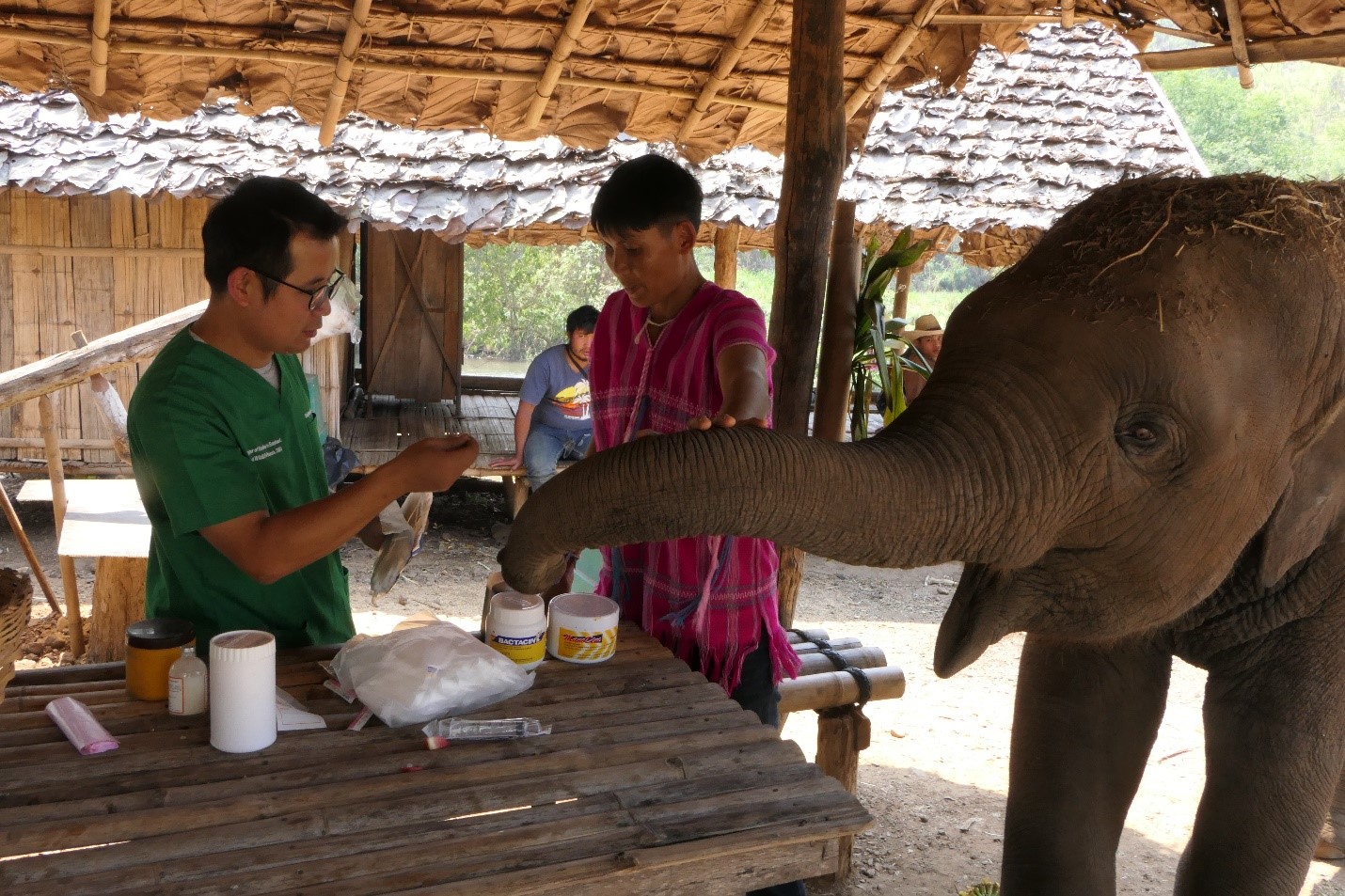 From the perspective of secretary, Vanessa Gagne
This past March I had the rare opportunity to travel to Thailand for National Thai Elephant Day and the dedication of the vehicle AES purchased for Chiang Mai University's Vet School's mobile clinic. I most treasured my experience with the Thai people – I met so many colleagues in person and spent quality time with them. It is through these human connections we will be able to help ensure the future of the Asian elephant.
I truly enjoyed seeing how each camp operates differently to manage their elephants. Thailand is so rich in culture, especially elephant culture, that to miss seeing this as a part of their daily lives is to omit an integral portion of their national sense of self. I think I set a personal record: I saw over 140 elephants in one day during the Thai Elephant Day celebration. It was remarkable!
Thailand has a fascinating history, and since archaeology is one of my favorite hobbies, I visited some temples and was captivated by their myths and symbols. Many of the motifs are identical to that of the Maya. I was able to visit the Patara Elephant Farm in Chiang Mai where I participated in their "mahout for a day" program. The staff's educational talks to the participants were informative, demonstrating their professionalism and knowledge. They explained the important difference between animal welfare and animal rights.
I left with a sense of peace and the hope I would return again soon. There is so much work to be done helping people and their elephants. I know it was the beginning of a life-long relationship with the Thai people and their "Chang Baan," or domesticated elephants.
From the perspective of president, Linda Reifschneider
This was the first trip to Thailand for Janet and Vanessa. I remember my first trip! But that was 2002 and there have been 20+/- trips since then, so my perspective on this trip is a bit different.
From our visit to Richard Lair in Lampang, breaking in the new vet vehicle visiting elephant camps, our visit to Patara Elephant Farm, the vehicle dedication ceremony at Chiang Mai University through the welcoming Thai Elephant Day visits at Maesa and Maetaeng elephant camps and our visit to a Karen camp and John Roberts at the Golden Triangle Asian Elephant Foundation, I experienced the 'being with' elephants that made me know on my first visit in 2002, it was time for me to say goodbye to a wonderful 43 -year career with Edward Jones and figure out how to be of benefit to today's Asian elephant as well as a positive force for their future. I've had a lot of help along the way, and so, I wish to use this article to say thank you to some very special friends who are the 'boots on the ground' in Thailand – the men and women with the education and expertise, determination and dedication, to a better today as well as the future of Asian elephants. They are: Richard Lair, acknowledged expert on Thai history, culture, language, and elephants; Drs. Chatchote Thitaram and Khajohnpat Boonprasert, Chiang Mai University; John Roberts, Golden Triangle Asian Elephant Foundation; Theerapat (Pat) Trungprakan, Patara Elephant Farm and his lovely wife Anocha (Dao); Julie Ferdinand, a most helpful friend, and an expert canine exporter! My sincere appreciation also to the newer friends and acquaintances made on this trip as they, too, are the hope of the Asian elephant and I am simply humbled to help in whatever small ways AES is able.